The Multiple Listing Service, or MLS, is a local database containing all properties listed for sale with Realtors. Through the MLS, Realtors "share" listings with all other Realtors, and offer compensation or a "co-broke" commission to any Realtor who brings a buyer to their listing. It is by far the most important and effective place to list a property for sale. Properties listed for sale in the South Central Wisconsin MLS are viewed by the public on Realtor.com, WisconsinHomes.com and many other national sites.
Realtors in Madison and surrounding areas place properties listed for sale in the South Central Wisconsin MLS. All homes listed for sale in Dane, Sauk, Columbia, Rock, Dodge, Iowa, Green, Lafayette, Grant, and Richland Counties as well as portions of Jefferson, Crawford, Vernon, Juneau, Monroe, Adams, Marquette, Green Lake, and Waushara Counties are found in the South Central Wisconsin MLS.

How It Works | Flat Fee MLS
You list your home for sale with Madison Flat Fee Homes for $450, not 6% commission. We enter your listing in the MLS, offering a commission to any Buyer Broker who successfully sells your home (in the Madison area, typically 3%, but you are free to offer as little as 2%). You actively participate in the sale of your home by scheduling showings, and hosting Open House, if you desire. If a Buyer Broker sells your home, your total cost would be the $450 you already paid us, plus the $950 Negotiation and Closing Services fee and the Buyer Broker commission you offered in the MLS. If a buyer contacts you directly, without a Buyer Broker involved, and they purchase your home...you would NOT owe the MLS offer of compensation to any buyer-broker.

How We Work | From Listing To Sold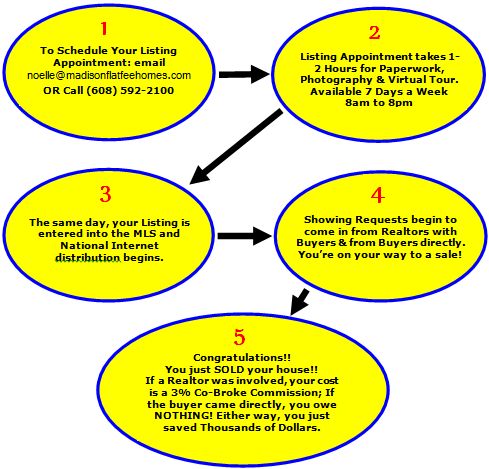 How They Work | Traditional Listing Brokers
(Traditional Listing Brokers include: Bunbury, Century 21, Coldwell Banker, First Weber, Remax, Restaino, Stark)
In Wisconsin, most traditional Listing Brokers charge you, the seller, 6% commission for the successful sale of your home. They enter your listing in the MLS and wait for other realtors (called Buyer Brokers) to bring buyer clients to see your property. If one of the Buyer Brokers sells your property to their client, then your Listing Broker splits the 6% commission with that Buyer Broker...giving that Buyer Broker 3% (known in the industry as a "co-broke" commission), and keeping the other 3% for themselves.
Sometimes, a buyer contacts your traditional Listing Broker directly; comes to see your house; then buys it directly through your Listing Broker with no other Buyer Broker involved. In this scenario, your Listing Broker keeps the entire 6% commission for himself. This business model is antiquated, and not designed to benefit the seller. This structure has not changed in decades, even as home prices have gone up. If you have a home worth $100,000, you pay 6% commission ($6,000); if you have a home worth $500,000, your still pay 6% commission ($30,000). Doesn't sound fair, does it? Did you know that when you list your home with a traditional Listing Broker you give up your right to sell "By Owner". What does that mean? It means you will owe them the 6% commission even if you decide to sell your home directly to your own brother. Food for thought, isn't it?

Here is the Great Part...
By listing with Madison Flat Fee Homes, you retain the right to sell your home to a "direct-buyer". What does that mean? If you sell your home directly to a buyer with no Buyer Broker involved (which happens all the time due to our excellent national Internet marketing), then your only cost is the $450 flat fee which you already paid us, plus $950 to handle all the paperwork...NO ADDITIONAL commissions are due anyone!! This business model has proven wildly successful, and is most certainly, the future of the entire real estate industry. Take a look at the commission saving chart below.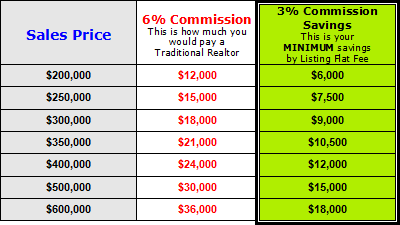 For Sale By Owner | "FSBO"
When you choose to sell "By Owner", you do not reap the benefits of the incredible exposure provided by listing a property in the MLS. Most "By Owner" sellers advertise "agents welcome", which means they would offer a commission to a buyer agent anyway. Why not use our Flat Fee MLS services and expose your listing to the largest pool of buyers and buyer-agents searching for homes on the MLS and the Internet? Why advertise for sale on one or two sites, when you can advertise on hundreds?
Ready to get started? CLICK HERE or
Contact Noelle (608) 592-2100 or
noelle@madisonflatfeehomes.com